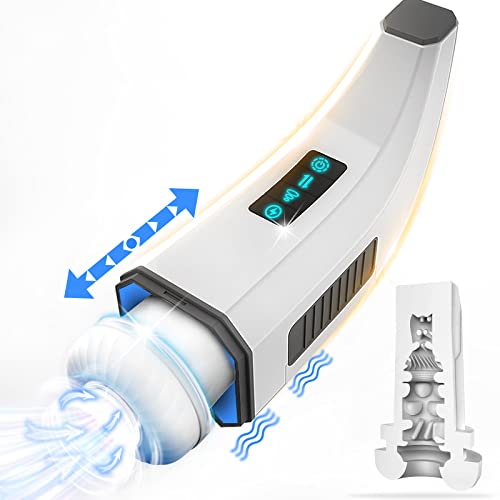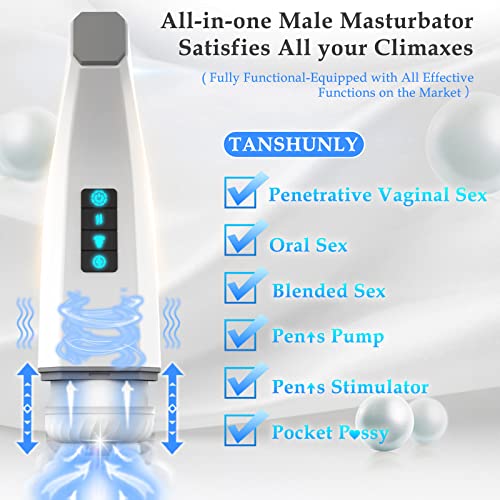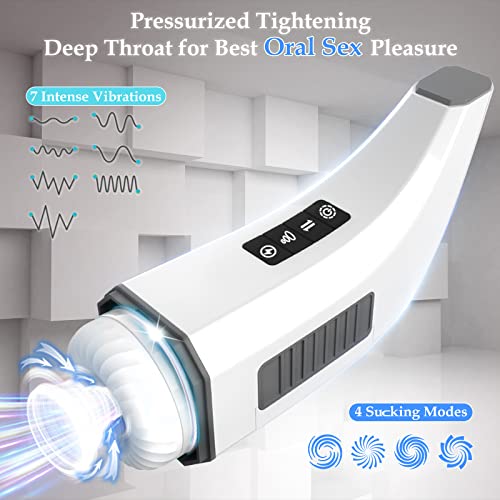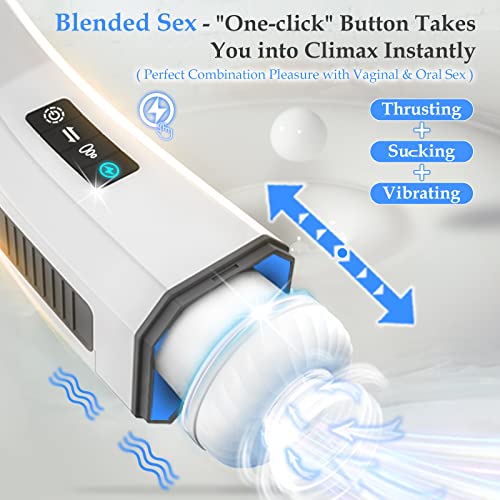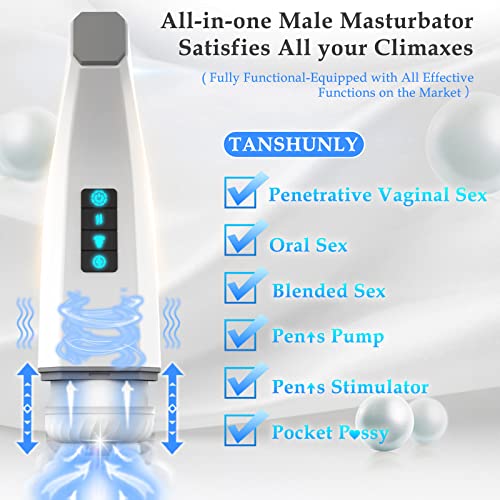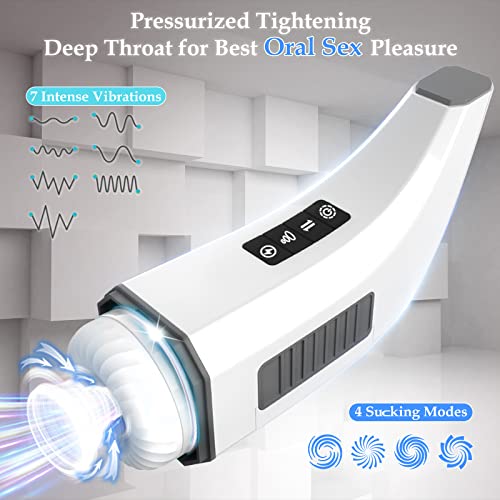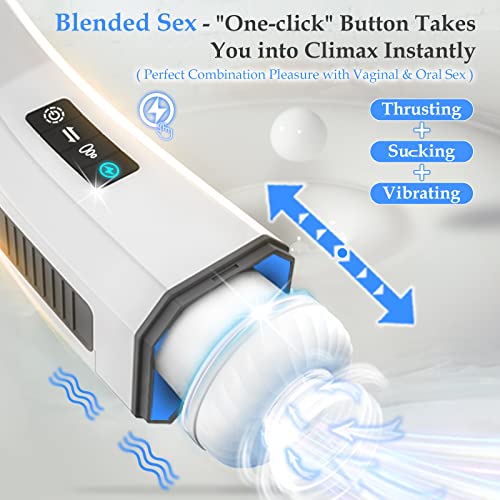 3 in 1 Thrusting Sucking Vibrating Automatic Male Masturbators, Adult Sex Toys for Men's Sex Pleasure, Tanshunly Hands Free Male Masturbator Cup Men Sex Toy Machine Stroker Masturbation, Pocket Pussy
$59.99
?【All-in-one for Vaginal Sex & Oral Sex & Blended Sex & Penis Stimulator & Penis Pump】- Independently controlled 5 thrusting modes, 7 sucking modes, 4 vibrating modes and one-click mode can take your solo play to the next blended and multiple levels. You can enjoy penetrative vaginal sex, oral sex, blended sex and etc. by arbitrarily combining these modes, and this versatile masturbator can also be used as a penis stimulator and penis pump.Sex Toys – Pumps & Enlargers
?【Penetrative Vaginal Sex – the Real Thrusting Piston Movement】- Different from other masturbators with short inner sleeves, our powerful thrusting masturbation cup mimics realistic piston movements with innovative technology. Intense thrusting introduces you to ultra-sensation pleasure. With 3D humped interior design, a good massage to your cock is guaranteed. The automatic up-down thrusting movements together with the tender vagina-like inner texture can make you feel like in a real pussy.
?【Oral Sex – Upgraded Air-sucking Technology – Inhale Deeply and Exhale Slowly】- A fully automated, intuitively designed, and exceptionally powerful blowjob simulator. This male sex toys packs the most innovative, air-sucking sex technology for a pressurized tightening sensation. This amazing technology gives you the feeling of tightness you can experience in oral sex.
Description
Additional information
Reviews (0)
Description
?【All-in-one for Vaginal Sex & Oral Sex & Blended Sex & Penis Stimulator & Penis Pump】- Independently controlled 5 thrusting modes, 7 sucking modes, 4 vibrating modes and one-click mode can take your solo play to the next blended and multiple levels. You can enjoy penetrative vaginal sex, oral sex, blended sex and etc. by arbitrarily combining these modes, and this versatile masturbator can also be used as a penis stimulator and penis pump.Sex Toys – Pumps & Enlargers
?【Penetrative Vaginal Sex – the Real Thrusting Piston Movement】- Different from other masturbators with short inner sleeves, our powerful thrusting masturbation cup mimics realistic piston movements with innovative technology. Intense thrusting introduces you to ultra-sensation pleasure. With 3D humped interior design, a good massage to your cock is guaranteed. The automatic up-down thrusting movements together with the tender vagina-like inner texture can make you feel like in a real pussy.
?【Oral Sex – Upgraded Air-sucking Technology – Inhale Deeply and Exhale Slowly】- A fully automated, intuitively designed, and exceptionally powerful blowjob simulator. This male sex toys packs the most innovative, air-sucking sex technology for a pressurized tightening sensation. This amazing technology gives you the feeling of tightness you can experience in oral sex.
?【Blended Sex – "One-click" Button Takes You into Climax Instantly】-Combined with rapid thrust, suction, and intense vibration, the one-click button can plug your little guy into the climax excitement. Rapid thrust accompanied by sucking, then following some pumps or contractions, a feeling of contentment and bliss will raise from the loins up all over the body. Of course, you can train your sex endurance by alternating between normal modes and one-click climax mode.
?【Penis Pump Enlargement Trainer for Longer Harder Stronger】-The powerful 4th sucking mode allows this toy to be used as a penis pump. The vacuum pressure will strengthen the shaft muscles to promote stronger and longer-lasting rigidities. The vacuum pump is perfect to prolong your intimacy and make for better sex! (Please do not put the hand across the open of the device while using it to prevent the clamping hand in case of quick thrust.)
?【Upgraded Inner Texture with Lube for Better Penis Friction Stimulation – the Sex Environment You Really Want】-This sex toy for man has a super soft silicone sleeve with multiple rows of stroking nubs for ultimate arousal. Lubricant is a very important part of enjoying your stroker because it ensures that you stay comfortable, and also gives you that oh-so-good feeling of wetness. The stretchy material allows it to fit any size.
?【Easy to Assemble & Clean】-The removable insert ensures clean up is fuss-free. After you finish it, you can easily take out the detachable inner sleeve and rinse it under the tap. This design completely isolates the motor from the water. After cleaning the inner sleeve and drying it, just put it into the cup gently. Tip: Please fully charge before use for the best experience.
?【Powerful But Quite Dual Motors】-Tanshunly, one of the best manufacturers, only uses the highest quality motors. That's why we know our motors are powerful, quiet and have a long life span.
?【USB Rechargeable】-Our mens sex toys pleasure toy is rechargeable with USB charging cable. The working time can reach 60 minutes after 180 minutes of charging. Male Masterburbaters, Sex Toys for Masturbation